Parisian hotel La Maison Champs Elysées spans two buildings, one dating from the Second Empire under Napoleon III, the other built more recently. Belgian fashion design house Martin Margiela, who won a competition to re-design the historical part of the building, created 17 hotel suites called the Couture Collection, a restaurant, a smoking room, a bar, and the reception area. The spaces, which opened this past summer, offer harmonious contrasts and touches of surrealism and marks the designer's first foray into hotel interiors.


The Gilded Lounge suite is covered in wallpaper made from black and white photographs taken of the Second Empire-style Gilded Salon located on the hotel's second floor.


The suite includes a WC with a library mural of books.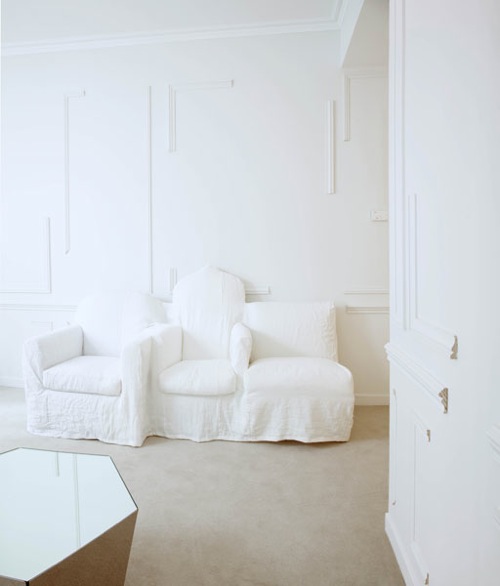 The three Lost Mouldings suites are subtly embellished with wooden moldings that start and finish at random. The monochromatic scheme is decorated in various shades of white, from very light gray to light beige. The salon and bedroom are separated by a central space with sliding partitions.


The Curiosity Case suite resembles a carbon cube, with black painted walls and black stained parquet oak floor. The atmosphere is both hushed and voluptuous.


The curtains are fashioned from black wool cloth with fine pinstripes reminiscent of the traditional fabric for a gentleman's suit.


In the lounge, a wall is devoted to a curiosities case that displays various objects and texts.


The pictures, objects and furnishings in the White Cover suite are draped with loose, white covers.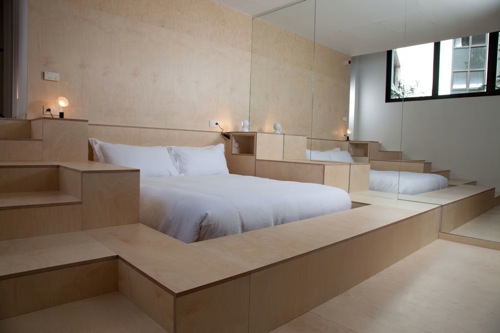 There are five Margiela-designed Junior Couture suites, split over two levels. The hall, which includes the dressing room, leads to a staircase going down to the bed. The flooring, walls, and bed are done in layered silver birch.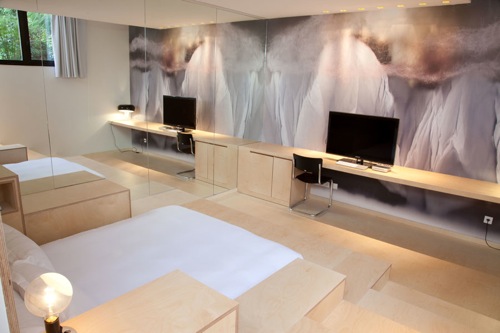 Opposite the bed, an imaginary landscape has been specially printed on the wallpaper, and is reflected on the adjacent mirrored wall.


The configuration of white tiling with black grout in the bathroom has a graph paper effect.


There are six Deluxe Couture suites designed by Margiela. The wall above the bed is highlighted by three squares of painted light, giving the illusion of sunlight streaming in from the adjacent windows.


The light beige wool carpet is printed with a red Persian rug trompe-l'œil beside the bed.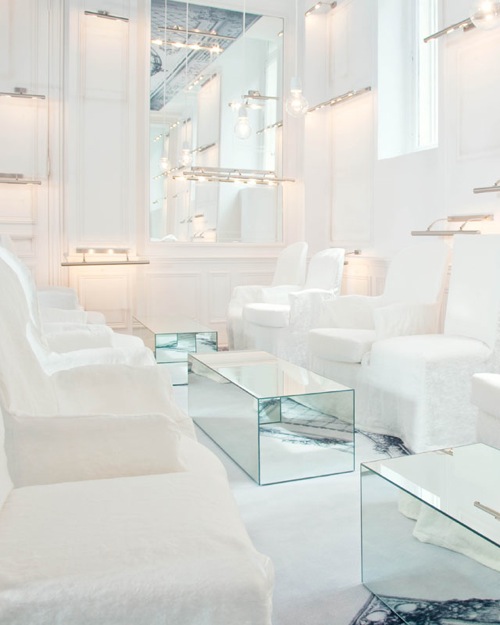 The White Lounge is just one of the enchanting public spaces that Margiela conceived.


Even the restaurant patio furniture is draped in white covers, and surrounded by lush plantings.


The hotel reception area is shaped like a mirrored prism. The floor is Pierre de Mareuil limestone flagstone with random black slate insets ("scattered as if by the wind"). Look carefully below the brushed stainless picture lights. They illuminate nothing, or what the hotel terms "missing paintings."

Adieu!