Sculptured in wood and fitting in with the topography of the orchards, this house reminds the world of a hangar and of a barn. It also preserves the rural characteristics of the surroundings and the organisation of the surface area around the positioning of the space it follows the distinctive typology of a farmhouse.
Villa Chabrey
Design Team:
GD Architectes
(GeninascaDelefortrie SA Architectes FAS SIA)
Location: Chabrey, Switzerland
Status: Completion 2006
The presence of the cemetery, gardens, meadows, pastures & the lake constituting this site overlooking rolling Chabrey is a living testimony to the history of this village. In this context sensitive location, a modern house has to be build without disturb the balances involved.
Villa Chabrey is an interpretation given to the particular specifications desired, its shape and its materialization. Indeed, this house maintains the typology old farm and proposes its report to the field, the play of its roof and by abstraction of its envelope, a term referring to both the world of shed, barn and landscape.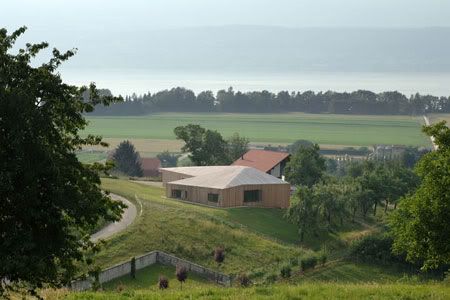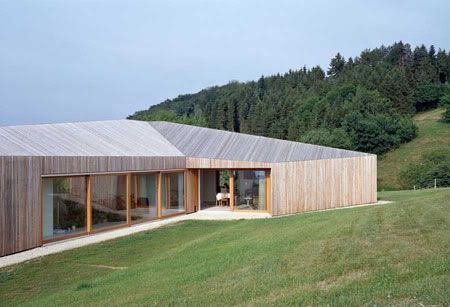 The house is organized around a central space-kitchen, dining-distributing respectively private area - bedroom, dressing room, office, the board friends, living room and indoor pool. If, in contrast to the traditional cuisine (the fire), distribution space allows a perception of a whole house and offers immediate
relation
to
the landscape
, other parts have a more confidential, both in size and framed by their connection to the outside.
This house has two registers of expression-one, outdoor-rough; the other interior-Precious-. This shift is the desire to perpetuate the character of the place where it is part and respond to the desires of the client.